300 Naira is the average amount spent on helping a person a day – BeatingCorona breaks down Nigeria's COVID-19 interventions.
Since Nigerian officially joined the global fight to curb the spread of the Coronavirus pandemic three months ago, the intervention database www.beatingcorona.ynaija.com has onboarded and consistently documented the work of an impressive number of intervention activities.
In that time, the number of interventions has steadily risen from a few dozen to nearly one thousand. The interventions run the spectrum from self-funded feeding programs to huge donations of medical supplies from more ably funded organizations.
This report is a comprehensive guide into Nigeria's COVID-19 intervention story as documented by the crucial cultural space, BeatingCorona.
Below are some of our findings and insights into how Nigerians have fared so far.
There are approximately 300 help centres across states in Nigeria. Help centres are the initiatives, foodbanks, cash-donors, medical relief suppliers, and the many other intervention programs that have been set up.
These interventions are broken into four types:
– The externally funded initiatives which are made up of government interventions with funding and donations from public offices holder across the federal, state, and local government levels. Donations from the European Union, the United Nations, China, and Germany also qualify in this category
– Registered organizations which include Civil Society Organizations, SMEs, and other organizations.
– Non-registered organizations
– Individual initiatives.
Asides from the general interventions provided by the government, Taraba, Yobe, Zamfara, and Gombe states all saw less than 3 non-governmental intervention initiatives in their communities.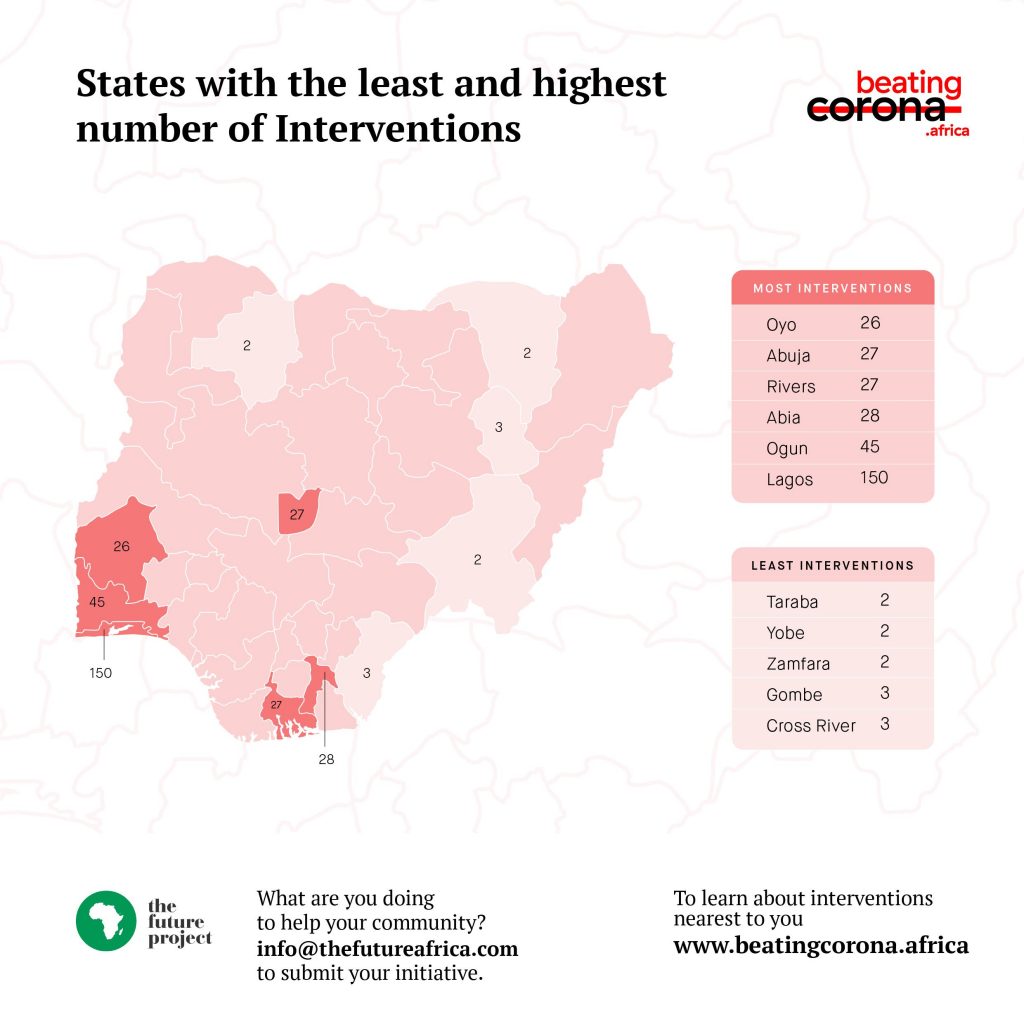 Oyo, Abuja, Rivers, Abia, Ogun and Lagos recorded the highest number of intervention initiatives, with Ogun ranking at 45 and Lagos, 150 being the highest. This is troubling as these states have significant financial cushions of private investments, robust economies and familial systems that ensure even the poorest have some safety net. This is in contrast to states in Northern Nigeria which currently holds the bulk of the country's poorest and economically disadvantaged citizens.
Approximately 230,098 Nigerians have benefited from the 300 find help centres in Nigeria, listed on www.beatingcorona.ynaija.com. This number, while impressive on its own, is only 0.11% of Nigeria's 200 million-strong population.
20% of self-funded interventions kickstarted with their own foodstuff. This was especially the case in states like Lagos, Kaduna, Ogun, Abuja, and Kano where lockdown was instituted without enough time for people to prepare. Hence, individuals who had stocked up had to donate items rather than purchasing from wholesalers or other market suppliers.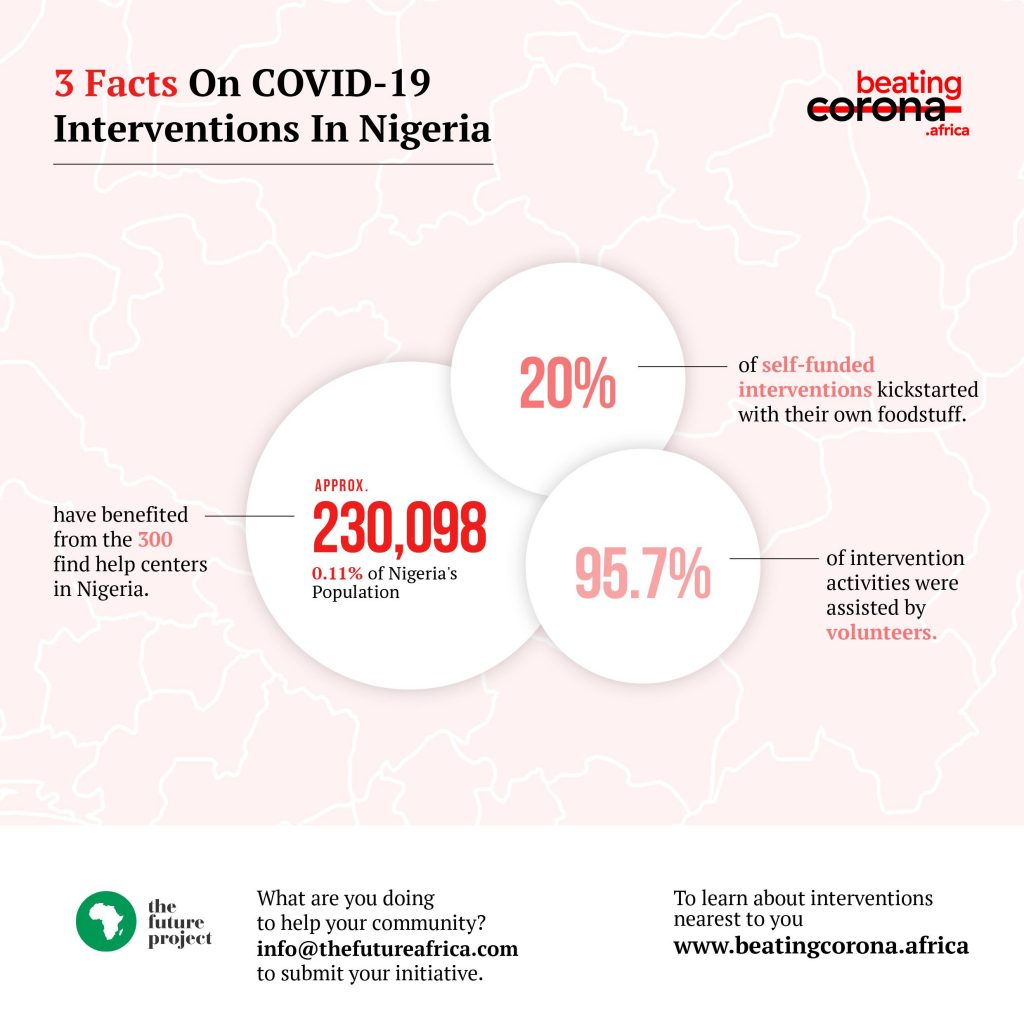 95.7% of intervention activities were assisted by volunteers. 50% of that number were and are made up of professionals, executives, and top leaders. This was confirmed in an interview with Alero Ayida Otobo, co-founder of Project Ark who disclosed that top professionals make a significant part of Project Ark's human resource.
Food, Cash, and medical supplies are three of the major materials that have been donated. Food, both cooked and raw, ranks higher than the other items as it remains a huge challenge for a country where 100 million live on less than $1 per day. It was naturally the first point of call for many intervention outlets, and even cash donations were funnelled into the provision of food. This further affirms research that suggests Nigerian feeding costs are especially high.
300 Naira is the average amount spent on helping a person a day. Beating Corona conducted a survey with a sample population of 30 COVID-19 interventions from across Nigeria who are actively providing help. The survey recorded that 30 of them had reached out to 90,270 people and had spent 27,351,810 Naira. This brings the average cost spent on meeting people's needs to 300 Naira per person.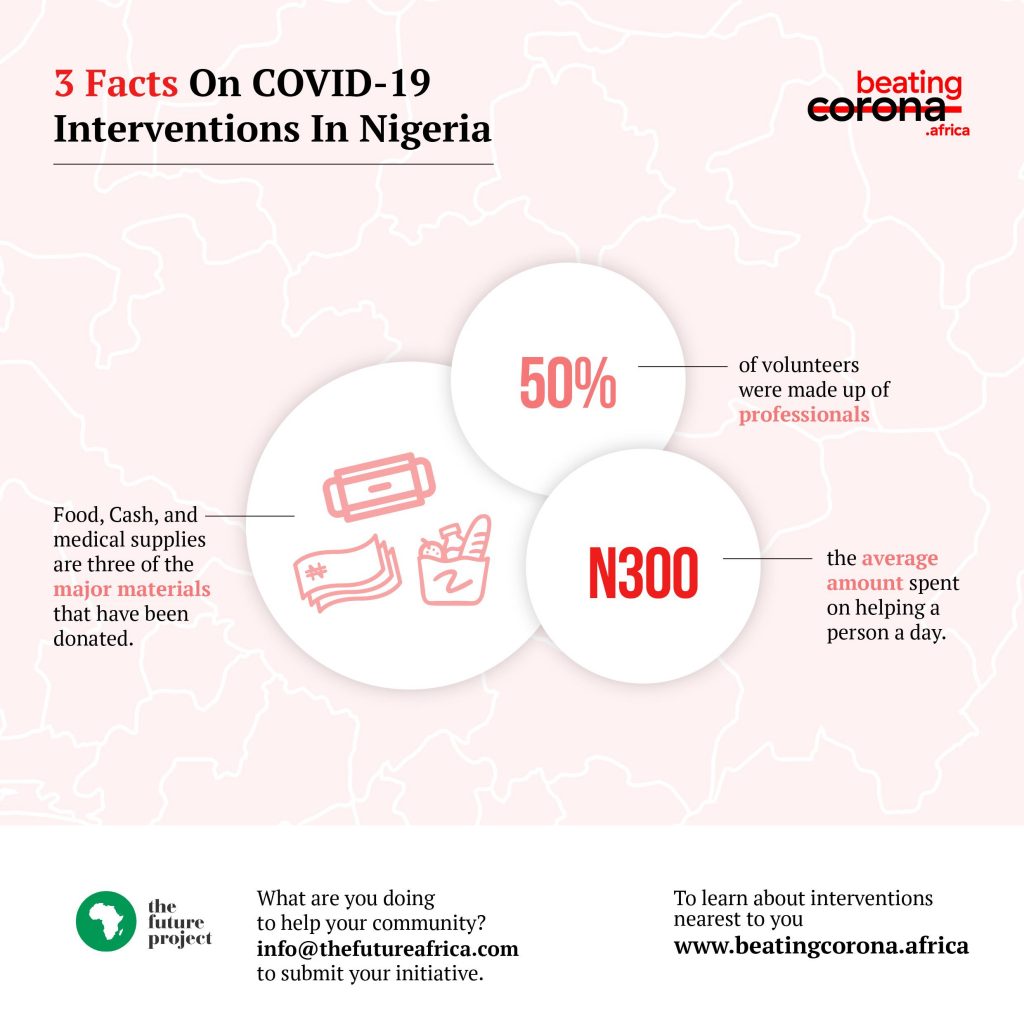 Intervention outlets account for 40% of the interventions received by Nigerians. With the Federal government strained thin, NGOs, individuals, and organizations have stepped in to share the burden and provide what has been a most impactful contribution to the fight against COVID-19.